Using the map
Points of Interest (POI)
When you search for a business, an address or a point of interest, a POI icon will appear on the map to show its location. You can click on the POI to view more details about that business or location.

A blue POI pinpoints your specific search location or search result.
We no longer number the POIs. When you tap or click the POI a small hoverbox will open above the POI which contains details about that business or place.

An orange POI represents a sponsored business or paid advertiser. The business will appear at the top of the search results.
Points of Interest you can search for are: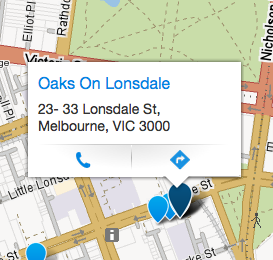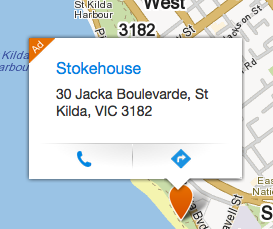 Airports
Ambulance
Attraction
Barbecues
Beach
Boat Ramps
Boating
Bowling
Camping
Caravans
Carparks
Cemeteries
Coach Terminals
Community
Council
Courts
Croquet
Cemeteries
Coach Terminals
Community
Council
Courts
Croquet
Embassies
Fire
Golf Government
Guides
Halls
Hospitals
Kindergartens
Libraries
Licensing
Lookouts
Masonic
Motoring
Parks
Petrol
Picnic
Playgrounds
Police
Post
Racing
Retirement
Schools
Scouts Shopping
Skating Rinks
Sport
Swimming Pool
Telephones
Telstra WiFi Hotspots
Tenpin Bowling
Tertiary
Theatres
Toilets
Tourist information/attractions
Traffic
Train Stations
Waste Disposal
Weighbridges
Wineries
Worship
Youth
...and many more!